'Co-Owner', Extreme Dimension Wildlife Calls
Gouthro's Moose Madness Series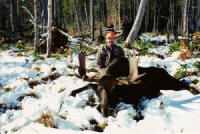 The 'Gouthro's Moose Madness Series is the most complete 'how-to' video collection on moose hunting & calling available on the market. This four-part DVD series (six hours of action-packed video) covers every aspect of moose hunting & calling, including some of the most important and most overlooked aspects of being a successful moose hunter:  recognizing, understanding, and dealing with the various kinds of bull moose responses.
Alex's passion for Moose truly shines through with this DVD collection.  As an avid moose hunter for over 17 years I share the same passion for Moose as Alex, which can only be explained as 'Moose Madness'.
Whether you use electronic calls or your own voice when calling, the instruction and tips shared by Alex on hunt setups, use of decoys, anatomy & shot placement, and when to use passive and/or aggressive calling techniques can be applied to all moose hunters.
I have Moose Permits in Maine and New Brunswick this season, and plan on watching the complete Moose Madness DVD Series prior to each hunt. It is truly a video series to be watched and studied before any annual moose hunt.
Peter Brown
Note:  Peter Brown is a well-known Maine moose hunter and co-owner of Extreme Dimension Wildlife Calls, a company well-known for its wide variety of high-quality electronic game calls, including digital electronic moose calls.  www.phantomcalls.com