'Founder & Editor Emeritus', Bowhunter Magazine
"Here's a Moose Madness Masterpiece"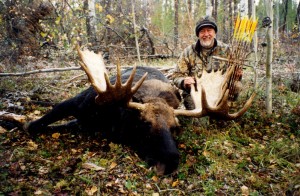 You gotta give credit to Alex Gouthro. When this guy sets out to create the most comprehensive video guide on moose hunting and calling ever produced, he does it right. Several years in the making, Gouthro's Moose Madness Series DVD package is an A-to-Z action/information blockbuster that should be required viewing for anyone venturing into moose country.
In all, there are 4 DVDs and over 6 hours of video footage giving you everything you'll ever need to know about North America's largest member of the cervidae family: moose characteristics, subspecies and sizes, habitat, and a complete understanding of the moose rut. But once this general moose info is laid out, the focus shifts to specific calling techniques and tips, hunting setups, decoying, and numerous in-the-field encounters with rutting bulls. As a bonus, there's a crash course in moose anatomy, shot placement, and field dressing complemented by expert advice on choosing effective firearms and bowhunting gear. A couple of actual calling/shooting sequences cap the action.
Speaking as someone who's hunted moose with Alex Gouthro and seen this master Ontario caller, guide, and fellow bowhunter in action, I can attest to the fact he's the real deal. In fact, 97% of the DVD footage was taped by Alex and his hunting buddies outside of federal or provincial parks in actual hunting areas during open seasons. Such realism adds an unmistakable air of authenticity and authority to Moose Madness. I give it an enthusiastic thumbs up!
Interested readers can obtain complete ordering information by going online and visiting www.gouthrosmoosemadness.com at Northwest Video Productions' home page. To reach Alex directly, send emails to agouthro@tbaytel.net or call (807) 767-0494. His own successful Northern Ontario Bowhunter Services offers quality hunts in prime Canada moose country.
R. James
Note: M. R. James, Founder/Editor Emeritus of Bowhunter Magazine, is a living legend in bowhunting circles, and is still living his lifetime of bowhunting experiences. Leading by example, he has made vast contributions to the education of bowhunters through his writings – and through encouraging others to share their experiences in the written form. In fact, he encouraged Alex Gouthro to write his first article back in 1993.