Fort Erie, Ontario
Hi Alex,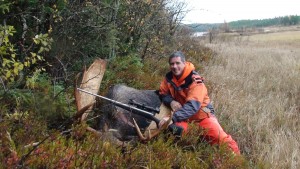 I have been moose hunting for 22 years now. I have had the privilege of teaching my youngest brother John survival, camping, and hunting skills since he was young. I am now blessed to be able to hunt with him and my two sons, Ben & Clay. They have been moose hunting with me since they were twelve. Moose season is the time of the year we anxiously look forward to all year long.
I have shot my share of moose over the years, and most people who know me consider me an accomplished moose hunter. But now I get more satisfaction out of calling moose in for the boys than I do shooting them myself. I have had many bulls respond to my calling over the years; however, a good number of them I never actually saw. Frankly, I have often been frustrated with bulls getting "hung up" and not knowing how to handle these situations. I always wanted to bow hunt moose but all the shots that I had while gun hunting were 100+ yards, and knew I had to learn more to get bulls within bow hunting range.
I talked to as many reliable hunters as I knew, trying to gain knowledge from their hunting experiences. Within our own moose hunting group, after we got a moose down, we would sit and talk about all of the things that we heard and saw — trying to learn as much as we could from our own experiences. We would buy videos and try different techniques with varying degrees of success. Then I heard about 'Moose Madness' helping bow hunters so I got a copy of the Shockey's Moose Madness video. I was soooo disappointed. All it was was Jim Shockey taking people around and basically showing the kill shots! I learned nothing.
After more searching I came across your "Gouthro's Moose Madness" web site. I wasn't sure if I should lay out any more money to add to my video collection — but the thirst for more knowledge made me take the plunge and I bought the Series – and am I ever glad that I did! I learned so many different techniques that I hadn't seen in any of the other videos in my collection. I had never before heard moose make some of the sounds that you demonstrate, but after seeing you bring in one bull after the other to close proximities I had to try them. I practiced for hours in my back yard, driving both my neighbors and my dogs crazy. I bought a decoy and could hardly sleep for two weeks before hunting season.
This year I was calling for my brother and my oldest son trying to bring a moose across for one of them. On the third day I saw a bull coming down a mountain to the swamp about 600 yards away. He was coming right down wind of me and the boys were on the other side of the bush line. I grabbed my mare in heat and sprayed it in the air every once in a while. He would come in a little way and put his head down to eat. He didn't seem too interested. I started with the plaintiff moaning that I learned from your video. He responded! I did this several times. As he got closer I could see him eyeballing the decoy. I was only behind some alders and basically in plain sight. I called him into 50 yards before deciding to shoot. I wasn't sure that I wanted to. It was a good sized bull and I thought that the meat might be tough. I'm glad that I did though. The meat was amazing and so was the experience. Getting a bull in that close is what I have longed to do ever since I started moose hunting.
I doubt if I could have compiled all of the information you have in your Moose Madness Series in a lifetime. There are sections of the Series that I watch over and over every year before I go hunting, and every time I pick up small details that I hadn't noticed before. I think the only thing that would be better than your Series would be to actually hunt with you personally.
You can be sure that I'm taking my bow next year!
Steve