Black Creek, British Columbia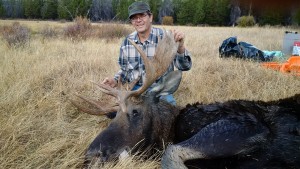 I have hunted moose twice before this year. As a guide friend of mine said to me this summer, "Most hunters think moose are standing in swamps". Uh, that would be me. Then I purchased your Moose Madness Series On Moose Hunting & Calling. My, how things have changed! Let me briefly explain.
We went moose hunting in our favorite location for the third time in BC again this year. We arrived a day before opening. I went and found a good location for a ground blind, built it, and primed the pump before leaving that evening. The next morning we hiked in and arrived late at 8:00am due to a fridge problem we had to sort out in our trailer. With the wind at our back we let things settle down, then at 8:10 I went down to a small pond and stomped like a cow and urinated from the moose calling horn a few times. I repeated that sequence then returned to the blind and broke a few sticks. At 8:20 I let out a 4 part call as you had taught me. Then at 8:40 I let out another 4 part call. At 8:50 a bull came from the far tree line coming at us like a freight train. He was a silent bull and stopped a few times but kept coming. At about 8:55am we harvested this fine bull. After walking up to him, I laid my hand on him and said "Thank you moose for your life". The next thing I said was "Thank you Alex".
But it was not over. My son had been training all Summer/Fall with me, and the next morning he went out to his spot with a friend, let out a 4 part call and within minutes a young bull came out which they harvested. He said the same two things I did, "Thank you moose. Thank you Alex".
It was an absolutely amazing experience calling in the bulls. But in a way it was not surprising because we felt thoroughly prepared for the hunt. However, we were not prepared for how quickly everything happened. I now look forward to next season. I am certainly interested in seeing another moose harvested, but I am also very interested in perfecting the calling and bringing them in closer for video shots, or perhaps bow.
Thank you. You certainly know your stuff and I am very appreciative that you have shared your lifetime of experiences with folks like me. We utilized a lot of your advice, from priming the pump, to the cow splashing/urinating, wind at back, point of land, passive calling, scent elimination, rut behaviour to identify the type of bull, habits, and so on. Your MM Series gave us an absolute wealth of information. Moose are amazing animals, but knowing more about their habits, as you explained in much detail, made the experience all the more enriching.
On another note, an acquaintance of mine has been a moose guide for over 25 years and works only 20 miles from us. At the same time we were hunting, he and two other guides were guiding six hunters on a seven-day hunt (each guide guiding two hunters). They were unsuccessful. It was an eye opener for us to be successful when compared to the experts. I'm not suggesting we're any better, but obviously we did something right.
Alex, thank you for putting together this Moose Madness Series. I learned more in the few months of watching it (over and over) than in my prior 60 years.
Otto, "West Coast Logger"