Calabogie, Ontario
Hi Alex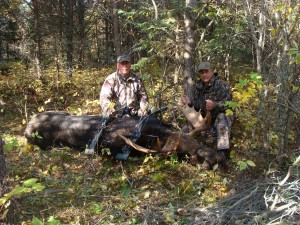 First off, thanks for developing the Moose Madness DVD's. They are truly great! It is also nice to see your work in the OFAH magazine. Good job! We have been bow hunting for moose for 10 years now. Just a group of 3 old guys. Thanks to your DVD's we have a 50% success rate with Bulls. One 60 incher. It is quite a challenge as I do all the calling.
We don't have to shoot a moose every year, I just love to interact with them. We have been hunting a bunch of years in MMU 5 just below Red Pine Bay, Minnitaki Lake. We gun hunted in this area for 10 years previous to switching to compound bows. We needed a new challenge. We typically hunt the extremes of the day and fish and bird hunt the rest. However, it has been increasingly difficult to hunt this area as it is getting too grown up — perhaps time to move on to a new area!
Attached is a photo from our 2011 bow hunt. This bull was taken with a seven yard shot by my long time hunting buddy Barry Kuehl (right side). It was taken on the Saturday just before the opening of rifle season. One of of those rare no wind mornings — Great for calling. Again, thanks for the Moose Madness information and talk at you soon.
Regards
Mike Patrick