Thunder Bay, Ontario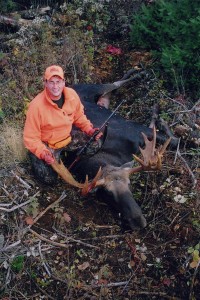 I just wanted to let you know about of the moose hunting success that I experienced this past season after watching your Moose Madness series. Over the years, I've often tried calling but I've had limited success.
This past year, I picked up a copy of your Moose Madness series and watched it several times in the weeks leading up to the opening of the moose hunting season. On opening morning, I set up in an older cut-over. Shortly after first light, I called using your passive calling techniques. After my first call, I immediately received a response from a bull. The bull walked through the cut-over straight towards me grunting the whole way in. I took him at about 30 to 40 yards with a single clean shot. Maybe just a fluke I thought? The next morning, I went into a totally different area. As on opening morning, I called shortly after first light. Just as on opening morning, I immediately got a response. However this time, I got a response from two bulls. A small bull made its way around a beaver meadow. Since, our group no longer had a bull tag, I let the bull come to within 10 to 15 yards before I scared him away. The other bull continued to grunt and thrash trees and bushes out of my view. Perhaps, your aggressive calling tactics may have got him to come out?
I can hardly wait for next hunting season! Thank you!