Polebridge, Montana
Hi Mr. Gouthro,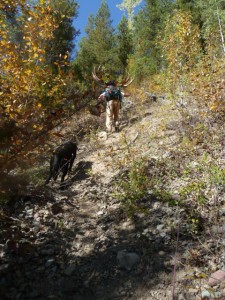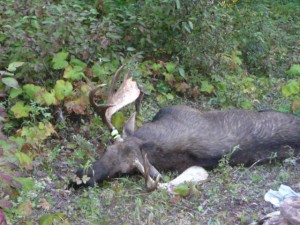 I just wanted to say 'thank you' for all the information you put out for hunting moose. Margaret, my wife, and I live in northwestern Montana, off the grid. We try to harvest and process all our own meat and this year I finally drew a moose tag. I think I almost drove Margaret crazy practicing your cow calls. Most nights I would be up practicing before bed. Anyways, it all paid off. I scouted out a nice bull while bowhunting for elk and on the morning of opening day, I called him in from aways off and then when he held up about 100yards away, I raked some shrubs with an elk shoulder blade, gave a real low bull grunt and got him to come in under 20 yards.
I really appreciated your enthusiasm and what you were willing to put out on the internet. Thank you very much Mr. Gouthro..and as you said on one of your videos…"that was fun eh?"
I hope you have had a great year and wish you continued success with your business and with your educating of young hunters. Take care and thanks again.
Sincerely,
Mark Heaphy