Bethany, Ontario
Hey Alex.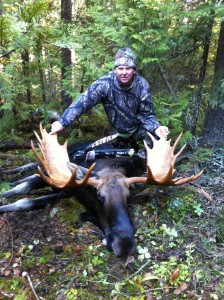 I just want to thank you again for another successful hunt. Last year my son shot a trophy bull which was brought in using your calling techniques. This year it was my turn and I was lucky enough to shoot another trophy moose. We were hunting near water again – and had set up our hunt at the tip of a bay. The night before my lucky day we made a series of loud cow broadcast calls and, as you call it, "primed the pump".
The next morning there were bulls grunting all over the place. One moved toward us from the north side of the bay. This one lost interest – we think it picked up scent from the boat. About 10 minutes later another bull came in grunting from the south side of the bay. As it closed the distance it circled downwind of us and smelled the cow-in-heat scent along with fox urine we had placed at our stand location following your advice. Looking for the cow the bull hung up about 50 yards out, and when he couldn't see the cow he slowly started to move off.
I decided to switch tactics and started to walk slowly away from the bull — deliberately stepping on branches and making some soft cow calls and bull grunts along the way. The bull responded by starting to move towards me but again got hung up about 50 yards out. At this point I decided to concentrate on aggressive tactics, and raked a small spruce tree with my moose scapula. It worked like a charm! The bull answered the challenge by first thrashing some bushes with his antlers, and then by moving in prepared to fight for the cow. I took him at 20 yards just behind the front shoulder. He went down quickly and it was an easy drag out downhill to the boat.
Getting this close to moose the past two years has been the highlight of my hunting career. I'll be reviewing the Moose Madness Series again before next year's hunt for sure!
Thanks so much Alex.
John B.